 Design It The Way You Want It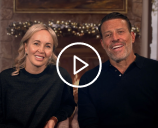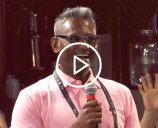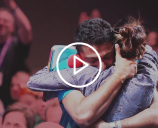 This event WILL sell out...secure your spot now
Uncover The Hidden Forces That Control Your Life
Many people go through life by default, based on what others have taught them. But most never consciously CHOOSE the forces that secretly run their lives. Instead, they push their way through life, feeling stuck and not ever feeling fully fulfilled.
Do you keep asking yourself what more can I do feeling like you're on a treadmill going nowhere?
The truth is whatever is "wrong" in your life is caused by being out of alignment with your true values, which is why Tony Robbins created Date With Destiny.
Date With Destiny will rewire the very BLUEPRINT of your life to put you on the path to truly step into what you're capable of.
If you want to realign with your purpose and feel fulfilled in the process, then Date With Destiny will complety redesign your life in just 6 days.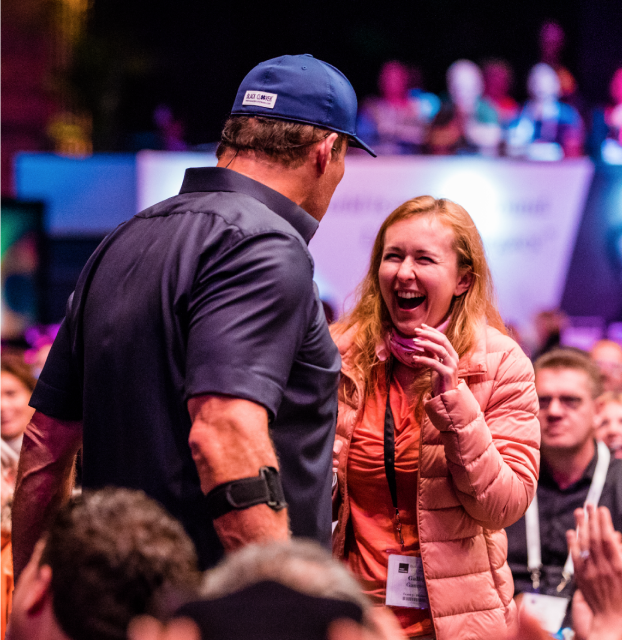 Powerful Transformation in Their Own Words

"The #1 thing that I realized was that you have to have gratitude before you can have joy. And that resonated with me because it made me think 'Okay, I have everything in my life. I have had a great career, health, and I have a great family,' but there was an emptiness and I think it's because I really have to start to be aware of being thankful or grateful for the things that I have."

"Date with Destiny is a place that you must come if you are feeling in yourself, 'You know what? My life isn't quite working. There is something that can be better. There is something that can be greater. There's more I have to give.' And honestly, in my heart of hearts, there is no better place in this world to do it than at Date with Destiny."

"Date with Destiny is a transformative experience that is unlike anything else that I've ever witnessed and ever been a part of. It truly is a gift. It truly, truly is a gift - not just to your life, but to your soul. I think it's worth ever single moment. It truly is." 
2024 is Your Year to Live a More Fulfilling and Purpose-driven Life
Date with Destiny is your opportunity to embrace profound personal growth and transformation so you can:
Turn your biggest obstacle into your greatest gift
Reshape your values so you can experience new outcomes that align with your true self
Experience the deepest level of intimacy and fulfillment in your relation ships
Ignite your passion for all aspects of life and unlock your true potential
Get the time and energy to answer unresolved questions you're asking on a daily basis
This fully immersive experience is the fastest way to make significant change in your life and finally discover what your life is truly meant to be.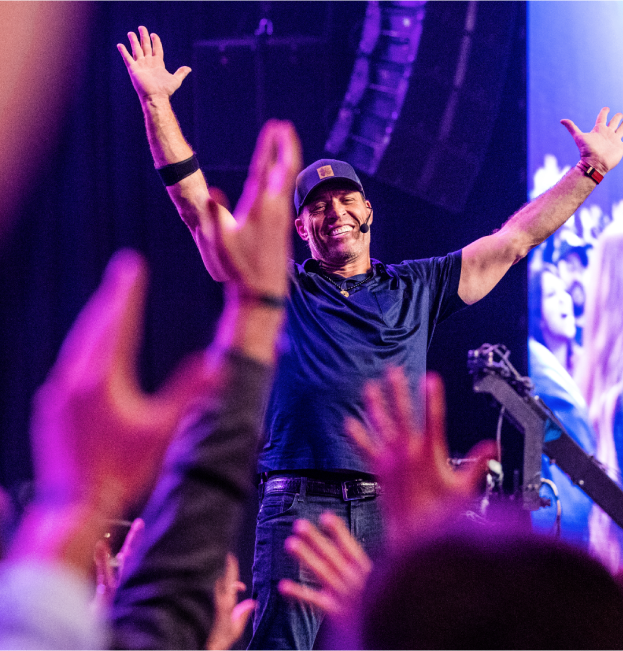 Extraordinary Results Backed by Science
Snyder Lab of Genetics at Stanford studied the impact of Tony Robbins' events. What the scientists found was so extraordinary, they ran the numbers three times to confirm their findings.
Study participants reported feeling happier and more satisfied in their relationships. They also experienced a:
300%
increase in biomarkers for performance, learning, retention, and achievement.
87%
average improvement in depression symptoms, without drugs.
70%
decrease in negative emotions like loneliness, anger, stress, and anxiety.
50%
increase in positive emotions like life satisfaction, inner strength and well being.
"I've been doing research for almost 20 years and have published almost 300 papers. I've never seen anything like this. The results are absolutely incredible."
What Attendees Have to Say About Date With Destiny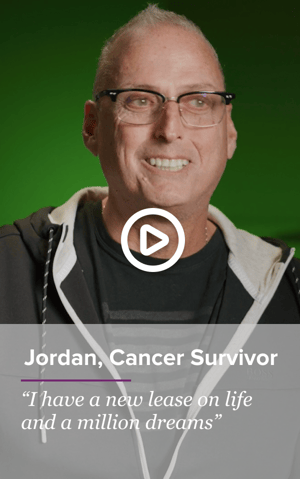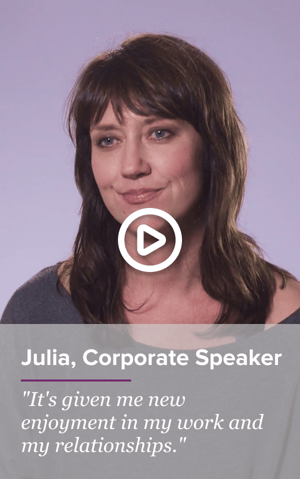 What happens at Date with Destiny?
Date with Destiny is not a traditional self-help seminar or like any other event Tony Robbins puts on. It's a six-day immersive experience that will transform your life, relationships, health, career, and spirituality.
At this intimate event, you'll directly see and feel Tony Robbins' dynamic teaching style and powerful techniques as he shares proven success strategies.
You'll be pushed to confront fears, make significant change, and set a new compelling vision for your life.
Are you ready to tap into your full potential, possibly for the first time?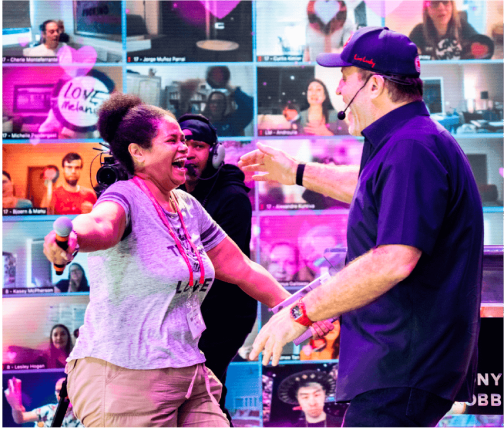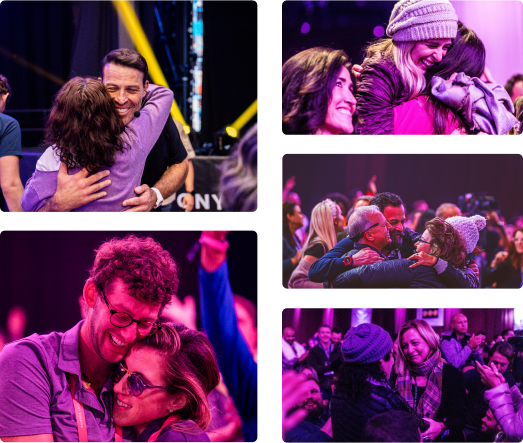 Each day is a carefully crafted mix of high-energy group sessions, interactive breakout activities and performance coaching designed to help you:
Ge clear on what drives you (so you can unlock your personal formula for lasting happiness and fulfillment)
Discover the hidden reasons you do certain things and shift those patterns to align with your ultimate destiny
Understand the beliefs, values, and rules that control actions, so you can purposely choose the direction of your life (and stop relying on chance or luck)
Get tools to build extraordinary relationships, create along-term vision for your life, and make a concrete map for the future
Learn how to align your personal beliefs, values, and rules so you can consciously pursue your new destiny
Feel what it's like to live your new reality with clarity and passion, so you can confidently move towards your ultimate purpose
Take Charge of Your Destiny Today
Every day you're out of alignment is a day longer away from your purpose and fulfillment. It's time to transform your life. Don't wait. Start today. Speak to a member of our team and remember to ask about our special holiday offer!
About
Tony Robbins
Tony Robbins is an entrepreneur, #1 New York Times best-selling author, philanthropist, and the nation's #1 life & business strategist.
For more than four and a half decades, millions of people have enjoyed the warmth, humor, and transformational power of Tony's business and personal development events.

Mr. Robbins is the author of six international bestsellers, including the 2014 New York Times #1 financial bestseller, MONEY: Master the Game and UNSHAKEABLE: Your Financial Freedom Playbook (2017).
Mr. Robbins is the chairman of a holding company comprised of more than 100 privately held businesses with combined sales exceeding $7 billion annually. He has been honored by Accenture as one of the "Top 50 Business Intellectuals in the World"; by Harvard Business Press as one of the "Top 200 Business Gurus"; and by American Express as one of the "Top Six Business Leaders in the World."

Fortune magazine's recent cover article named him the "CEO Whisperer," and he has been named in the Top 50 of Worth Magazine's 100 most powerful people in global finance for three consecutive years. Business leaders and financial moguls from Salesforce.com founder Marc Benioff to Ray Dalio have tapped him for personal coaching.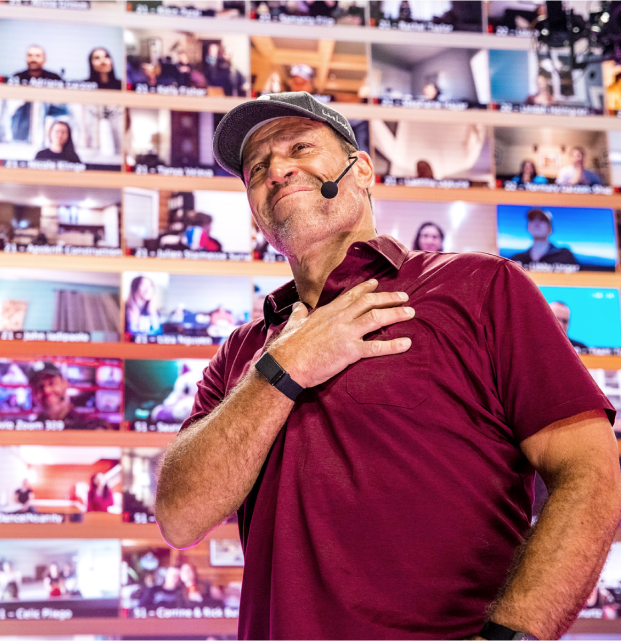 © 2023 Robbins Research International, Inc. All rights reserved.
9051 Mira Mesa Blvd P.O. Box 261229, San Diego, CA 92196